How to Use Dating Sites In South Africa
Online dating sites are one of technology's many blessings to humankind. Asides from creating social media apps to ease communication with people from all over the world, the tech world gave us dating sites to make our love lives so much easier. On dating sites, you can meet people from all over the world looking for love or companionship, and the same can be said about dating sites in South Africa.
You probably want to know how to use dating sites and how to get perfect matches on dating sites in South Africa. So, we have put together this complete guide for finding the best online dating sites in South Africa, setting up a profile, and optimizing your profile to ensure that the site connects you with the kind of people you're looking to meet.
Let's do a quick overview of the dating scene in South Africa so that you can gain some background knowledge and insight into the nature of the love pool in the country.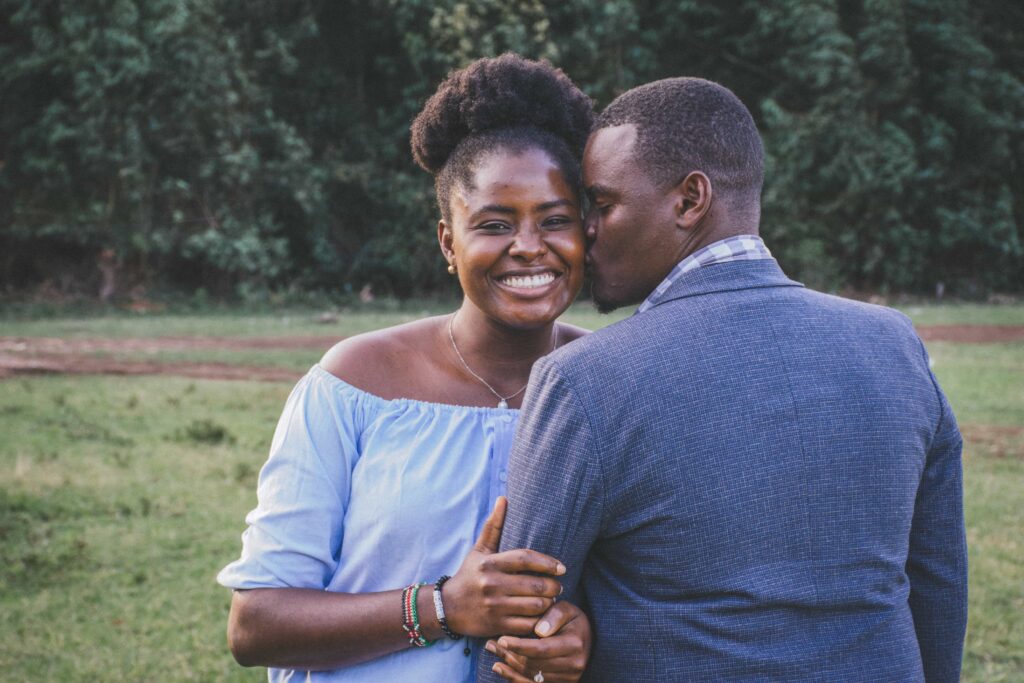 Dating In South Africa
Dating in South Africa is similar to the nature of dating in many Western countries. While South Africa is a country with a peculiar culture and diverse tribes, many of their behavior patterns are aligned with standard Western culture. Many South Africans begin to actively date in high school. They even go to prom, so the concept of dating begins in the early teenage years.
Predominantly, South Africans practice Christianity and the religion preaches chastity and abstinence from sex until marriage. So, you may meet South African singles well into their mid-20s who do not want to have sex while dating. You have to know beforehand if that is a decision that you will be willing to make for the person that you want to be with. However, there are a lot of South Africans that do not apply the religious restrictions surrounding sex. We think it just helps to know that there are exceptions to the norm you would expect if you're a foreigner from a liberal country.
Also, many South Africans are technologically savvy, so the good news is that you would meet a lot of them on South African dating sites and even global sites like Tinder. According to data from the Statista online platform, the majority
of South African online dating sites users (51.7%) were between 25 and 34 years of age in 2019.
So if you're in this age group looking to date South African singles, we're happy to tell you that your chances of success are high. To maximize those chances, however, you have to understand the basics of setting up your online dating profile and making the best use of the matchmaking filters provided by the site.
Don't panic. It's easier than it sounds, and we will help you break it down. To make sure you can easily apply your knowledge with tools that we understand, we will use the TrulyAfrican site as the template for this guide.
Ready? Let's get into it.
How to Set Up an Online Dating Profile
1. Pick your sites wisely
Online dating isn't one of those eenie-meenie-miney-mo games. You can't just close your eyes and choose one. Actually, you can, but the chances of finding a suitable match will decrease drastically if you take that approach. You have to be selective about it.
Some apps have a reputation for being hookup apps; others are designed to connect users with the same faith or some other shared hobby or attribute. Truly African has a partner preferences feature and is known for setting up people that are interested in committing to long-term relationships. If you're looking for love instead of a fling, then you need to sign up.
2. Sign up on the dating site of your choice
Many dating sites ask for the basics to create an account for you- your email address and a secure password. After that, you have to provide your name, age, and country. Make sure that you supply genuine information, as all these details are fundamental in determining your matches.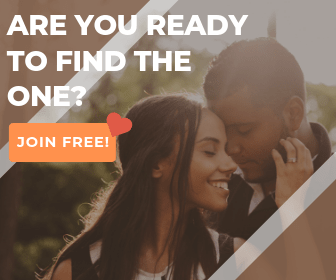 3. Upload a profile picture
Pick a picture that accurately reflects your physical appearance — don't use overedited pictures or pictures that show your features disproportionately. It may be tempting to use editing apps to create an unrealistic image of yourself in order to attract more people, but be true to yourself. You may eventually have to meet prospects offline, and deception will break the relationship you two could have even before it starts.
Choose a picture of you smiling brightly- that makes you more approachable and attractive. Pictures do speak a thousand words, so you have to pick one that best conveys your personality online. People will judge you based on many things- and your profile picture is one of them.
Truly African has photo upload guidelines that shun nudity or pictures that do not have a face in them, so nude pics or logos of your favorite football club won't work here.
4. Write a profile description
Here's your chance to show off some personality. Focus on the most significant attributes, so that you can get matches that share the same interests as you right off the bat.
Write your bio in a loose, conversational manner without trying to oversell yourself- this is not a CV or an audition. Don't be afraid to be vulnerable- revealing that you cry every time you watch Titanic could be the sweet spot that endears your perfect match to you. Showing vulnerability can be attractive because it would mean that you're comfortable in your own skin and confident to show that you're just as human as the next guy.
Be honest, and keep it short and simple. People on online dating sites swipe through many profiles- nobody would be interested in reading an essay. Keep it under 100 characters- you'll get the chance to write a more in-depth description later. Besides, the brevity of your profile will help you retain a certain degree of mystery- and that's crucial to romance both offline and online. You don't want to dish it all out- you want to be slowly discovered and unfurl as you connect with a match, so keep your bio sweet and short.
Include the most interesting things about you, and also state the qualities you're looking for in a partner. Focus on yourself though; researchers say that 70% of the information in your profile can be about yourself, and the rest 30% is enough to describe your ideal partner.
5. Provide specific details
While your profile is undergoing review by the site's admin to be sure that you're not a bot, you can go under 'Profile Settings' to provide more information about yourself and your preferences.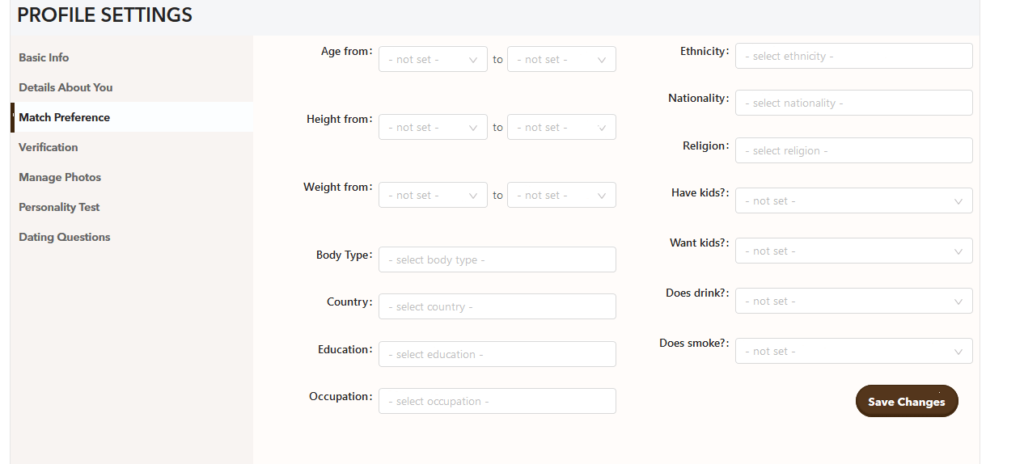 At Truly African, the goal is to help you make suitable matches as quickly as possible. Fine, you may have to kiss quite a few frogs before you meet your match, as the saying goes. But with sections available to specify every detail from your star sign to the number of kids you plan to have, it would be a disservice to your search to leave those boxes unchecked.
Here, you can also add a few more photos that depict your features and personality from other angles. Use this opportunity to include pictures of you doing your favorite things. Things like traveling or playing your favorite game, or laughing with friends are good options.  
6. Take the personality test
Many dating sites rely only on the information that users give to matchmake. But at Truly African, we know that one can sometimes have insufficient or inadequate words to describe oneself. You know how amazing you are, but when the 'tell us about yourself' question pops up, your existential crisis stares you in the face and leaves you with no words. That question is what interviews and dating sites have in common.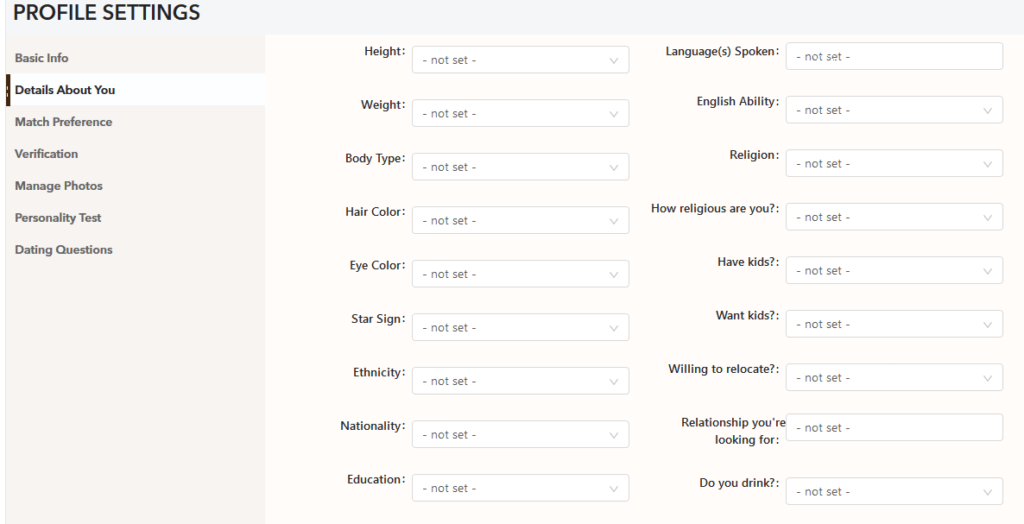 To break this barrier, we have a personality test that will give you (and prospective matches) a good look at your personality based on your answers to 50 questions about a variety of personality traits. We'll give you a deeper insight into how sociable you are, what your likeability level is, what range your emotional maturity is, how open to learning you are, and more.
The results of the test will help in matching you with singles who share or complement your personality traits.
When you're done setting up your profile, there are other things to keep in mind. Let's get into more specific details about how to use dating sites in South Africa.
Bonus Tips for Using Dating Sites In South Africa
1. Keep an open mind
Do not let stereotypes about South Africans influence your expectations. Enter the dating pool with an open mind; South Africans are diverse people and they come in different exotic personalities. Be ready to genuinely get to know people- you never know what you will find.
2. Have a sense of humor
South Africans are vibrant people that have a great sense of humor. Funny people are attractive everywhere. So if you can start a conversation or keep one going with a good joke or two, you may win the heart of your South African prospect and lay the foundation for something worthwhile.
3. Beware of scammers
Dating sites are full of a lot of people claiming to be who they are not. These shady entities are out to prey on your vulnerability and exploit people of money and waste precious time. Read our indepth article about how to spot online dating scams here. It will help you to recognize red flags and telltale tactics that scammers are known to use online.

Most importantly, have fun! Online dating should not feel like a chore or an obstacle course! Now get out there and be the attraction magnet that you are! Good luck!